@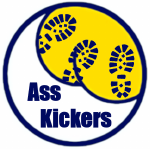 Frenchtown Field
Game 1:
Wiffling DeLoppes - 12
Ass Kickers - 0
WP: Chad Hoppe
LP: Brian Constanti

Game 4:
Wiffling DeLoppes - 5
Ass Kickers - 1
WP: Cliff Comstock
LP: ?
---
@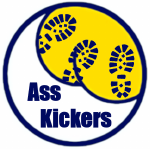 Frenchtown Field
Game 2:
Git r' Done - 8
Ass Kickers - 0
WP: Dennis Pearson
LP: ?

Game 3:
** 6 innings **
Git r' Done - 4
Ass Kickers - 1
WP: Dylan Braden
LP: Brian Constanti
---
@
Frenchtown Field
Game 1:
Wiffling DeLoppes - 0
Git r' Done - 1
WP: Dennis Pearson
LP: Chad Hoppe

Game 4:
Wiffling DeLoppes - 2
Git r' Done - 0
WP: Cliff Comstock
LP: Dennis Pearson
It was a tough outing for the Ass Kickers who have been ramping up play lately as the playoffs approach. In post game interviews Mike Constanti didn't blame the losses on fatigue, but did mention that 8 wiffleball games and multiple nights of softball didn't help the Ass Kickers' performance Sunday. These results see them as the 6 seed in the playoffs later this week. Good news out of the AK clubhouse, though, is that Brian Constanti's dominance toeing the rubber seems to be returning at just the right time to make a run through the bracket.

The split of the two tightly contested pitchers' duels in the Git r' Done vs. DeLoppes series locks up the first ever WSEM pennant going to Git r' Done. With the decisive Git r' Done victory coming in game 1 it was not as climactic as it could have been, but still a good finish to the season with the DeLoppes rallying to win game 2 and even the season series. Smart money is that these two teams aren't done with each other yet, though, and they could likely see each other again in the best of seven championship series.

One bit of maintenance: The Warriors and Git r' Done never scheduled their final two games. Due to our "set your own schedule" format we have a different way of handling forfeits in this situation than most sports leagues. Because we want the focus to be on the fun of playing wiffleball our rule is one that benefits teams that reach out, communicate, and try to play their games: if Team A does those things and Team B does not reciprocate the effort or is uncooperative with the process, then Team A receives wins for all games involved. If both teams communicate and work together but are unable to set the games, then the series of games involved is a split. The whole point is that teams should want to get out there and play and the whole league should try to help each other make that happen. If you put the effort in, you are guaranteed at least a .500 record for your effort. Alex had listed times on the calender for about a month, and asked Git r' Done to choose one that worked for them. Then, in just the past week, Dennis finally asked Alex if Friday 7/15 worked for Westside; it did not. Still both teams attempted, therefore they both go 1-1 for their two game series.

The playoff bracket will be put up tonight. Most of you probably already know, but we will make a bit of a show of it and have a little bit of fun with the first bracket festivities. Playoff games will be allowed to take place Thursday through Sunday, and all 1st round games will be played back-to-back at the high seed's choice of field. Also, end of the season awards look to be named later this week. Good luck to everyone this week! Try to win without being a dick, and try to have fun while lighting it up!