As is always the case between seasons, WSEM is looking at some upcoming changes. We will announce a couple big ones in the next month: one that will shake up the 2014 season, and a second that will have a huge impact come 2015. For now, though, let us look at the two smaller tweaks being made that will improve the WSEM experience next season.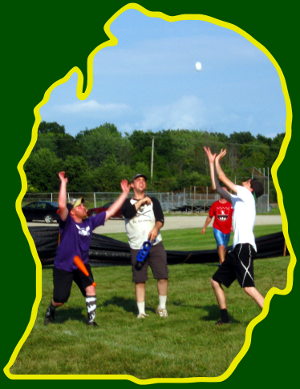 6 Innings
Starting with the 2014 season WSEM games will bump up from five innings to six for a regulation game. Five innings is a holdover from early tournament days when it was necessary for time constraints. When we started league play in 2011 our attention was focused more on the logistics of setting up league operations than any adjustments to games rules that were already in place. Increasing to 6 innings puts us in line with the format used by most other leagues, as well as the NWLA Tournament. The change will increase average game time from 45 to 54 minutes.

Some of you are probably preparing messages about how this will upset the record book, but let us be honest: our record book is something of a dirty little whore. Everything in there already comes from many different places. In 2012 we added the rotation rule, which drastically changed the look of pitching numbers. Then in 2013 we brought in bigger bats and increased the pitching distance, which this time effected both pitching and hitting numbers. If anything, the additional 14 IP or 30 AB may provide an opportunity to break some of the single season records set during 2012 with all of its extra inning marathons. Bottom line, the change actually brings us right in line with every other season when it comes to potential WSEM records.

With the inning increase our pitching rotation rule will modify slightly. A pitcher will still be ineligible for the next game after throwing one pitch over 2 innings. However, the two-game ineligibility will now come after throwing over 8 innings, which is the new equivalent of one game plus two additional innings.

Our mercy rules are also being adjusted. The new numbers are 10 runs after 4 innings, 15 runs after 3 innings, and 20 runs after 2 innings. Basically, the old version pushed back an inning with 20 after 2 in place to limit wildly egregious stat padding. All changes related to the innings increase have already been made to the rulebook, in sections 8a and 9.



Set Postseason Schedule
For the first time WSEM will utilize a set schedule for league games. Scheduling for the 2014 season will remain the same way it was handled this year - set by week with day decided by the teams. While there are some hiccups, this system works much more smoothly during the season than it does for the playoffs. Therefore, the dates for all 2014 postseason activities - Championship Playoff series, For the Thrill, and the All-Star Game - are already set on the calendar.
| | | |
| --- | --- | --- |
| Sat. 8/2 | - | 4 vs 5 Play-in Game @ 1 seed |
| Sat. 8/2 | - | 1 vs 4/5 Best of Three Series @ 1 seed |
| Sun. 8/3 | - | 2 vs 3 Best of Three Series @ 2 seed |
| Sat. 8/9 | - | Championship Series, Games 1 and 2 @ low seed |
| Sat. 8/9 | - | All-Star Game @ Championship Series field |
| Sun. 8/10 | - | For the Thrill @ TBD |
| Sat. 8/16 | - | Championship Series, Games 3 - 5 @ high seed |
Note: the 4 vs 5 play-in game is accounting for a ten team league. Should WSEM consist of only eight teams in 2014, then the 1 vs 4 first round series will be played that day on its own. The biggest change, aside from the set dates, is the packaging of the All-Star Game with the first games of the Championship Series, after two years of it being paired with For the Thrill. The ASG will be played after game two, making it possible to see three games on both days of the Championship Series. The repackaging is an effort to match up All-Stars with a date and place more of them are likely to be, as well as increase attendance at Championship Series games.
- - - - -
Aside from the increase to 6 innings and the accompanying adjustments to the rotation and mercy rules, there will be no changes to rules or parameters of actual game play. So, a 2014 game will look just like one from 2013 - just about 10 minutes longer. Off the field, though, change is coming that will greatly impact the dynamic of competitive balance within WSEM. Check back September 1st for the details about this year's "big change."