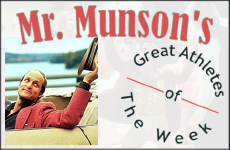 The first installment of
Mr. Munson's Great Athletes of the Week
is now online! As the name suggests this will be a weekly feature on the Records/Awards page for two players: one who played the game great, and one who made the game great to play. Click the link and
check out who got the honor of breaking the cherry
!
The play-by-play call of the
Jason Mattseals
and
Belgian Wiffles
4-vs-5 first round match-up is
now online at the Podcast site
. These are two teams trying to reinvent themselves in 2012, and doing a great job of impressing everyone in the early going. We will not spoil anything from this game, but Belgian went on to win the double-elimination tournament in impressive fashion, while the Mattseals continue to distance themselves from stigma of their 2011 season.
King Friday
have gotten some national attention for their bold "
we will dominate with rookies
" statement/stand-up act. In his
tongue-in-cheek article
on the NWLA site, Josh Williamson draws comparisons between Hurd, his team and the puppets from the Land of Make Believe. Williamson also divulges that King Friday is a front-runner for Team Name of the Year, adding: "
People may laugh at the name but King Friday was a real pompous SOB on the show.
"